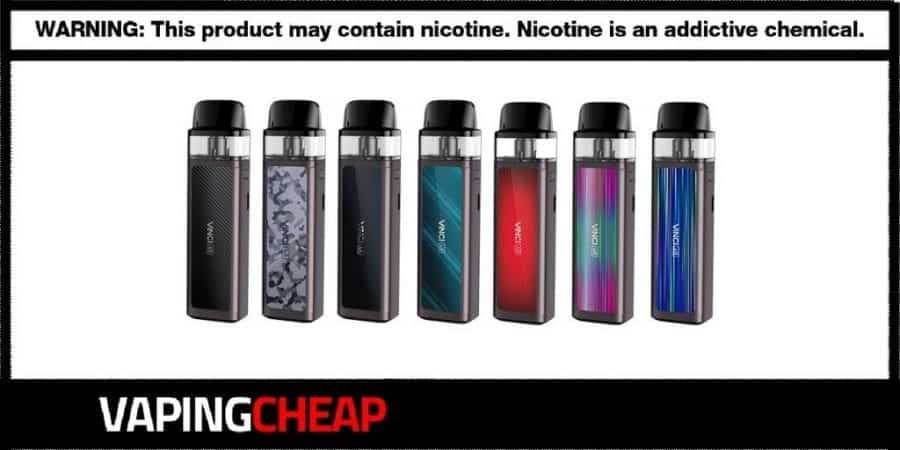 Here are cheap deals, discounts and sales for the Voopoo Vinci Air Pod Kit. Get one for only $15.75 using discount code "vapingcheap10". There are a bunch of different, and unique color options you can buy. This includes Carbon Fiber, Space Grey, Classic Red, Aurora and more.
The Voopoo Vinci Air may look like the original Vinci Pod Mod, but differs quite a bit, especially when it comes to the overall size. In comparison, it's 20% lighter and 30% thinner, making it that much more compact, and easy to travel with. Additionally, it has an output wattage between 5w and 30w.
There is an OLED display screen as well which does show you the current wattage output, battery life, and more. Speaking of battery, it does have a capacity of 900mAh, and doesn't take long to fully charge. There's also two different start modes, which include manual and automatic.
As expected, the Voopoo Vinci Air Pod Mod Kit is powered by the Gene.AI chipset, which ensures an accurate and powerful vape. With this chip, you'll also get an intelligent coil matching feature alongside a puff mode. What's even better is that this device does keep the same innovative dual airflow system. Simply take out the cartridge and turn it to adjust your airflow. However, the Vinci Air Pod System has an optimized airflow to provide both a comfortable mouth to lung, and restrictive direct lung vape.
Another great feature is that it is compatible with many different Voopoo PnP coils. Included in the packaging, you'll get PnP-VM4 0.6 ohm coil, and the 1.0 ohm PnP-R2 coil. The first is for direct lung, and the other is perfect for MTL. Also, the actual pod cartridge does hold 4ml of vape juice. Filling it is super easy too, which is always a good thing.
If you're looking for a thinner pod mod device, then you'll definitely want to check out the Voopoo Vinci Air Pod Kit. It's not only smaller and lighter, but keeps many great features that the originals had.
Voopoo Vinci Air Mod Pod Kit Features:
Built In 900mAh Battery
Powered By

Gene.AI

Chipset
20% Lighter & 30% Thinner
Wattage Output Range: 5w – 30w
OLED Display Screen
Zinc Alloy Construction
Unique Airflow System

Turn Pod Cartridge to Adjust Airflow
Optimized for MTL & RDL Vaping

7 Different Safety Protections
Compatible with Various Pnp Coils
Automatic & Manual Modes
Refillable Pod Cartridge

4ml E-Liquid Capacity
Easy to Fill
What's Included
Voopoo Vinci Air Pod Mod Device
Vinci Air Pod Cartridge (4ml)
PnP-VM4 0.6 ohm Coil
1.0 ohm PnP-R2 Coil
Charging Cable
User Manual
Gene Chip Card
Warranty Card
Check Out The Voopoo Vinci Air Review