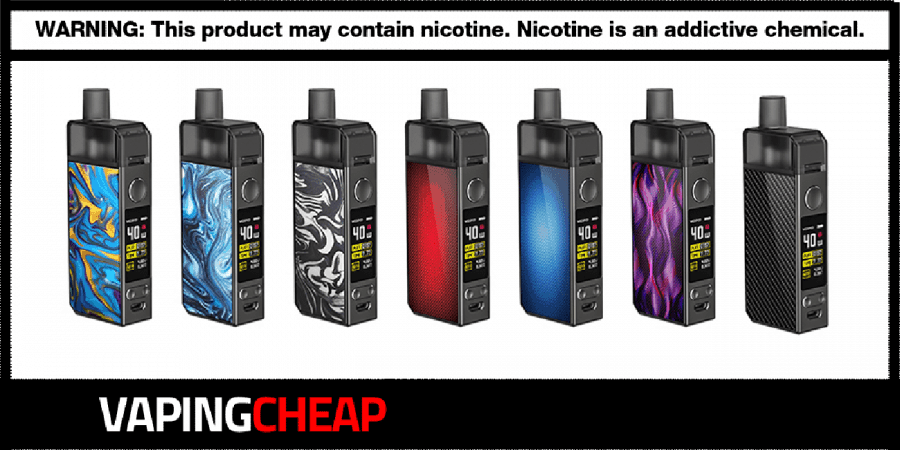 Here are discounts and sales for the popular Voopoo Navi Pod Mod Kit. Grab yours for only $15.99 using discount code "Navi40W". There are various color options you can buy including Carbon Fiber, Ink, Silk Purple and more.
Voopoo is back yet again with another pod system, and differs from their original Vinci Pod Mod. Like it though, it features the popular Gene AI chipset, providing the vaper with an output wattage between 5w and 40w. With this chipset, it does have a large display screen, and can track your vaping to see how much you're actually using the pod device. Additionally, it can fire down to 0.1 ohm. The Voopoo Navi Pod Kit does have a built in 1,500mAh battery, and can be charged quickly. 
Another great feature of the Navi Mod Pod is that it's compatible with all PnP coils, so you have a ton of different options including both direct lung and mouth to lung. There's also a new innovative triple airflow system, providing you with a smooth draw, which is always a good thing. When it comes to its pod cartridge, it does hold a maximum of 3.8ml, which is still way above the average of most other pod vapes on the market today. 
If you were a fan of their original release, or enjoy other devices like the Smok RPM40, then you'll definitely want to check out the Voopoo Navi Pod System Kit. At its limited time price of just over $21, it's a steal in our opinion.
Voopoo Navi Pod Vape Kit Features:
Powered By Gene AI Chipset
Built In 1500mAh Battery
Wattage Output Range: 5w – 40w
Minimum Firing Resistance: 0.1 ohm
Large 0.96 Inch Display Screen
Innovative Triple Airflow System
Primarily Constructed of Zinc Alloy
Refillable Pod Cartridge

3.8ml E-Liquid Capacity
Easy to Fill

Compatible with All Pnp Coils
Multiple Color Options
What's Included
Voopoo Navi Vape Pod
Navi Replacement Pod Cartridge (3.8ml)
PnP-VM3 0.45 ohm Coil Head
PnP-VM4 0.6 ohm Coil Head
Charging Cable
Gene Chip & Warranty Card
User Manual