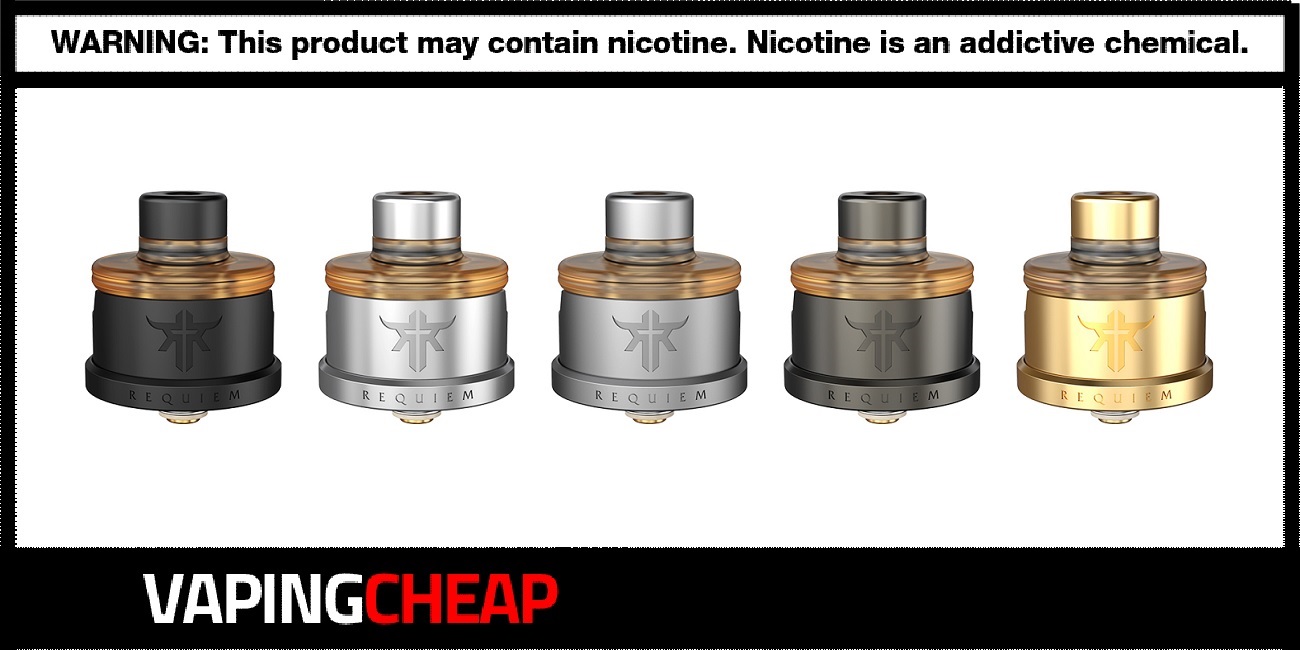 For a limited time only, the Vandy Vape Requiem RDA is now in stock and on sale. Grab one of these atomizers from a USA based store for only $20.39 when using the code "Vapor15". You can pick between three different color options including Black, Stainless Steel and Grey. 
The Requiem RDA is a collaboration between Vandy Vape and El Mono Vapeador. It sports an overall diameter of 22mm, however it does include a 24mm beauty ring, making it a nice pair with most squonk mods. Additionally, it's a highly compact atomizer made from stainless steel and ultem material. By the looks of it, you can tell it'll deliver some pretty good flavor.
Vandy Vape's Requiem RDA features a single coil postless build deck, which we've seen before with quite a few other RDAs. This design is great because it makes it quite easy and quick to install coils. It is a single coil atty, but will fit those exotic coils.
There's three different ultem airflow caps included in the package. What's great is that each cap provides a different vape experience. This includes  direct lung, mouth to lung and restricted direct lung vaping.
Changing the caps is quite easy, just take one out and place the other in. The airflow comes in from the top and hits the side of the coil giving a smooth and satisfying draw. Lastly, there's also three different drip tips included with this RDA, giving you even more for your money.
If you're a fan of low profile single coil atomizers, then you'll definitely want to take a look at the Vandy Vape Requiem RDA. This atomizer features an easy build deck, offers various airflow options and will certainly deliver stellar flavor. The release date is here, so get yours while they're in stock! The full kit is also available here.
Vandy Vape x El Mono Vapeador Requiem RDA Features:
Overall diameter: 22mm
Single coil postless build deck
Stainless steel construction
UItem airflow caps
Compact design
Top airflow design
Gold plated squonk pin
Five color options: Stainless Steel, Black, Gold, Frosted Grey and Gunmetal
What's Included:
Vandy Vape Requiem RDA
Three Ultem Airflow Caps
Multiple Drip Tips
Winding Rod
Spare Parts
Fused Clapton Coils
Instruction Manual
24mm Beauty Ring
Check Out The Vandy Vape Requiem Review