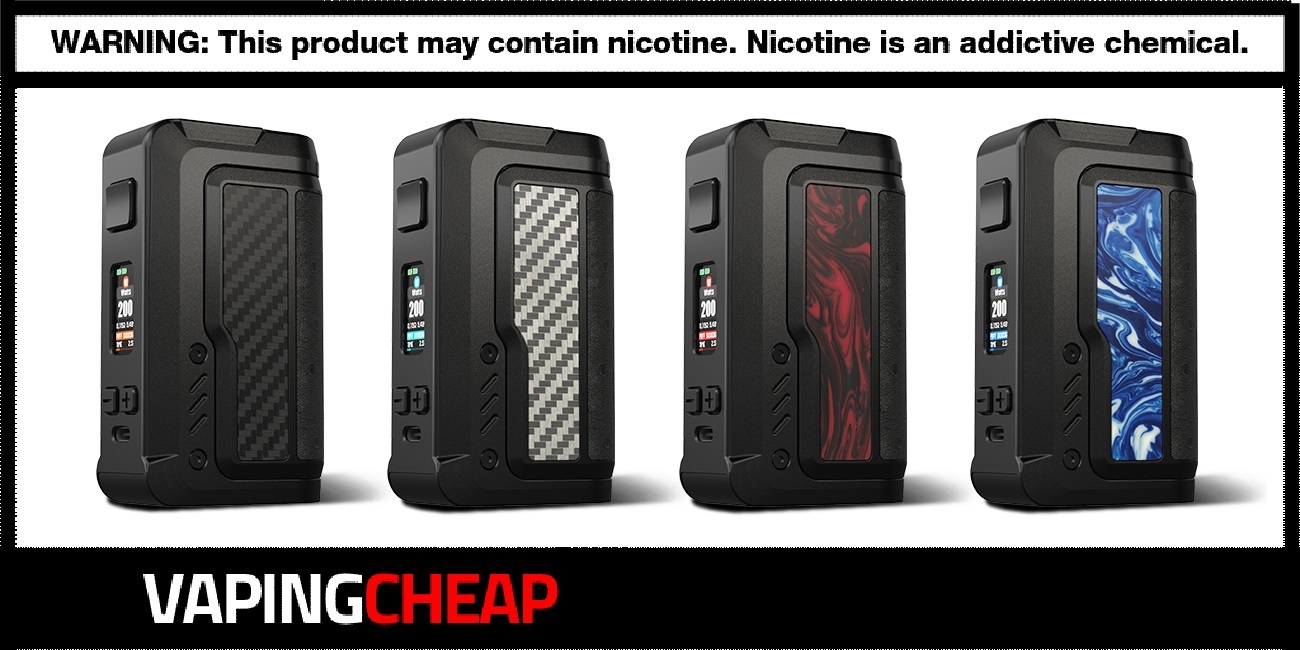 For a limited time only, the Vandy Vape Gaur-21 Mod in collaboration with SMM (Suck My Mod) is now on sale. You can get yours starting at just $29.54 after logging in and using the code "WSHC". It's also back on sale at a US shipper for $40.79 with the coupon "vapor15". When it comes to colors, there are eight different options. This includes Carbon Fiber Black, Carbon Fiber Silver, Flame Red Resin, Sky Blue Resin and more.
Vandy Vape's box mod, the Gaur-21 Mod, is a collaborative effort with YouTuber Suck My Mod. Requiring dual 21700 batteries for operation, it still manages to keep a rather small design than you'd expect.
With 21700s, you'll not only get plenty of vaping time, but tons of power – 200w to be exact. In addition, this device is powered by an upgraded version of the  Vandy Chip, which can be firmware upgraded. If you've seen the Pulse V2 chipset, then you'll definitely recognize the layout.
Another awesome feature, similarly to their Jackaroo Dual Mod, is that the Vandy Vape Gaur 21 is waterproof! On top of that, it's extremely lightweight due to its construction. 
When it comes to vaping modes, you've got multiple modes including temp control and standard wattage you can swap between. Lastly, the Vandy Vape Gaur-21 Box Mod has a ton of safety features built-in and if you're connected to the Vandy Vape App, you can locate the device through the find my mod app. How awesome is that!
All in all, the Vandy Vape Gaur-21 21700 Mod will definitely make a lot of vapers happy. It utilizes a dual 21700 batteries, has a ton of power, keeps a smaller size, is lightweight and it's waterproof. At its sale price, it's a bargain, that's for sure.
Vandy Vape Gaur-21 200w Box Mod Features:
Collaboration with Suck My Mod (SMM)
Requires two high drain 21700 batteries (Not Included)
Collaboration between Vandy Vape and Matt From SMM
Powered by an upgraded Vandy Chip
Maximum wattage output: 200w
Multiple user modes: VW, Bypass, TC
Large display screen
Three button design
Multiple safety features
Waterproof design
Firmware upgradeable
What's Included:
Vandy Vape Gaur-21 Mod
Instruction Manuals
Warranty Card
USB Type-C Cable
User Guidance Booklet
Two 18650 battery adapters
Be sure to check out the Vandy Vape Gaur-21 review video
More Great Vape Deals…
Geekvape Z RDA $11.60
If you're looking for the best deals for the Geekvape Z RDA, then you've come to the right place! Buy[…]