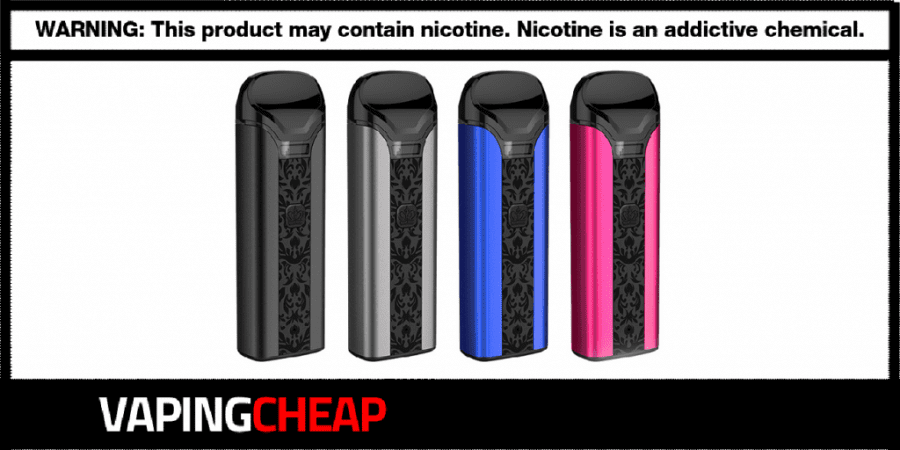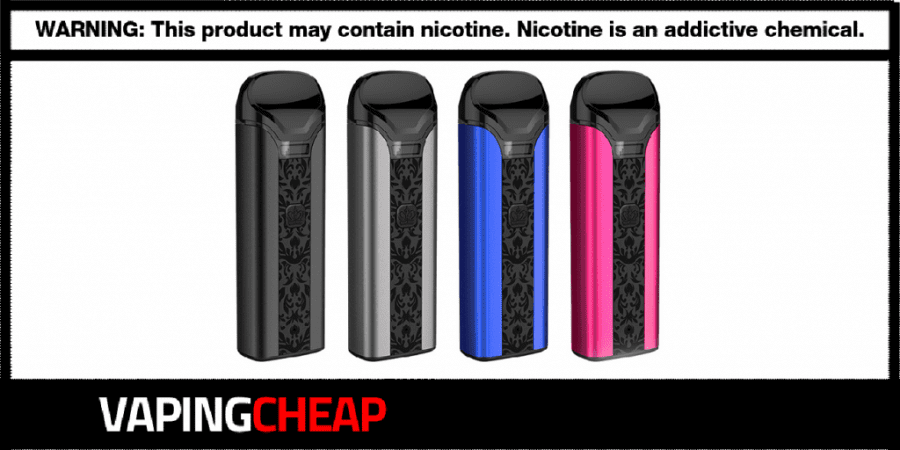 Here are cheap deals and discounts for the Uwell Crown Pod System Kit. Buy yours for just $8.79. No discount code required. It's also on sale at a USA store for $18.69 with coupon "VAPOR15". There's four colors you're able to choose from currently, which include Black, Grey, Red, and Blue.
This pod device kit shares the same name as their Uwell Crown Tank, but is a totally different type of vaping device. Uwell's Crown Pod Kit sports a rather slim and portable design. However, it packs a large 1,250mAh internal battery, which can easily last many vapers throughout an entire work day. It's primarily constructed of aluminum alloy material as well, ensuring excellent durability. The Crown Pod System by Uwell can deliver up to 25w of power, depending on which pod installed.
As expected like many other pod vapes, this one utilizes refillable pod cartridges. There's two different Uwell Crown replacement pod options as well. Firstly, there's the 1.0 ohm pod which is ideal for a mouth to lung vape, and pairs perfectly with e-liquids such as nicotine salt vape juices. Additionally, there's the 0.6 ohm pod cartridge, excellent for a restrictive direct lung vape experience.
Either pod cartridge does hold a maximum of 3ml, and fills from the top, With its design, you'll be able to quickly fill it with your favorite e-juices. This is definitely a huge pro. Now, another great feature is the adjustable airflow system. It's built into the actual pod cartridge. Simply move the airflow valve up or down to adjust the draw to your desire. It's easy as that! The best feature has to be its Pro-FOCS Flavor Testing Technology. It allows the device to properly control the heating temperature, strictly managing the material quality, and provide a clean taste.
Some other awesome features of the Uwell Crown Pod System Kit is the LED light indicator, multiple safety protections built into the device, and lock or unlock feature. Lastly, you can either vape it with its draw activated firing system or firing button.
If you're looking for a pod kit that can certainly last you throughout an entire day with a large built in battery, has a bunch of awesome features, and is affordable, then you'll definitely want to check out the Uwell Crown Pod System.
Check Out The Uwell Crown Pod Vape Review