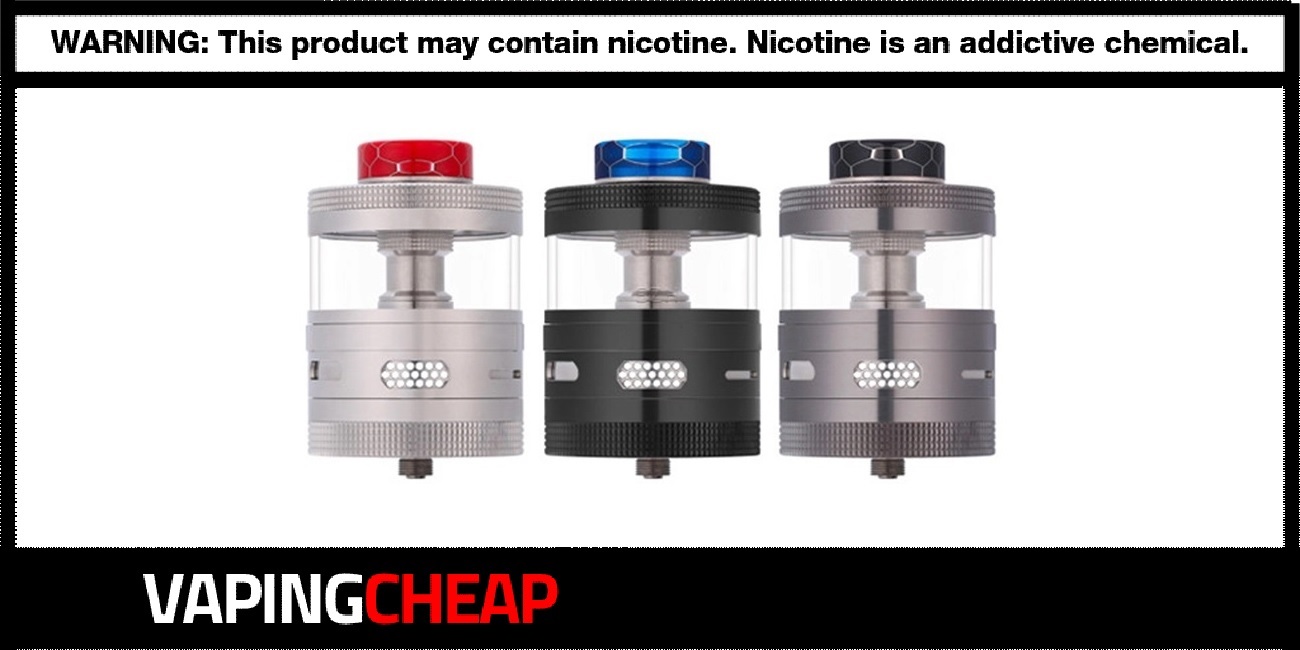 Looking for cheap deals and sales for the Steam Crave Aromamizer Titan V2 RDTA? Then you've come to the perfect page.
Buy one of these massive tanks starting as low as $52.70 when using the code "EDCOD". There are three color options you can choose from including Stainless Steel, Black and Gunmetal. 
Steam Crave's back with another huge 41mm RDTA, the Aromamizer Titan V2. It's made from stainless steel material and comes with two wide bore drip tips. In addition, it can hold a maximum e-juice capacity of 20ml of e-juice! For you vapers wanting even more capacity, you can increase it to 32ml! You can also reduce it to 4ml in RDA mode if desired. Filling is easy to do from the top, but you won't be doing that often, that's for sure with up to 32ml capacity.
Just like their previous Ragnar RDTA, the Aromamizer Titan V2 sports a postless build deck. Since it is a wide build deck it makes it easy to build on, and you can fit pretty much any exotic coil you want. On top of that, the airflow hits the coils directly, so even with its size, you're getting excellent flavor. Speaking of the airflow, you can adjust it by twisting the ring on the base of the tank. Lastly, you can close off the juice flow by turning the ring that's above the AFC, helping to avoid any leaking from occurring when filling or traveling with it.
All in all, if you're a fan of unique and huge atomizers, then check out the Steam Crave Aromamizer Titan V2 RDTA. When fully extended it has a 32ml e-juice capacity, an easy to use postless build deck and tons of airflow. Furthermore, you can even turn it into an RDA by removing a few pieces, how awesome is that!
Steam Crave Aromamizer Titan V2 41mm RDTA Features:
Overall diameter: 41mm
Stainless steel construction
Maximum e-juice capacity: 20ml, 32ml (Extended Glass), 4ml (RDA Mode)
Top fill design
Postless build deck
Adjustable bottom airflow 
Juice Flow control
Can easily change into an RDA
Gold plated 510 connection pin
Three color options: Stainless Steel, Black and Gunmetal
What's Included:
Steam Crave Aromamizer Titan V2 RDTA
32ml Glass Section
Extra Tank
Long Chimney
Two Vape Bands
22mm Drip Tip
Allen Key
Accessory Bag
User Manual
More Great Vape Deals…
Timesvape Diesel RTA $16.63
The Timesvape Diesel RTA in collaboration with AmbitionZ VapeR is now on sale for only $16.63 after logging into your account[…]