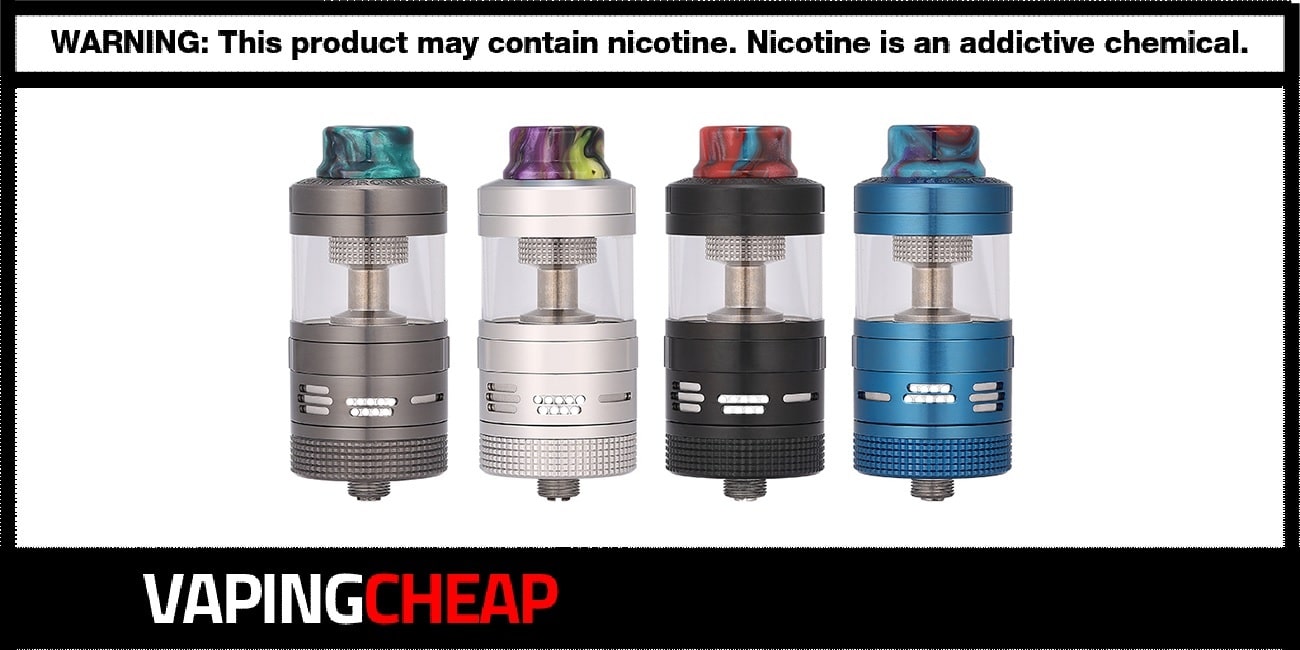 Popular brand Steam Crave is back with an update to their Aromamizer line! Get the Supreme V3 RDTA from only $27.99 after the code "SUPE". It's also on sale from a USA based store for only $39.60 plus free shipping over $75 when applying the discount "Hardware10". There are two different versions available, which are the Basic Kit and the Advanced Kit. Both versions have four color options to choose from.
Steam Crave's Aromamizer Supreme V3 RDTA is primarily constructed from stainless steel material and has an overall diameter of 25mm. It does have a maximum e-juice capacity of 5ml or you can increase it to a massive 7ml with the included bubble tank. With that much capacity, you will not be filling often. However, you can easily and quickly fill this tank atomizer from the top.
The Aromamizer Supreme V3 RDTA by Steam Crave comes with a unique single coil build deck. What makes it different is the large ramp-like airflow design that sits under the coil. Now, if you do upgrade to the advanced kit you get a couple other build decks included such as a mesh deck and a postless style build deck, giving you even more options.
A great feature that makes this atomizer stand out from other RDTAs is the airflow design. It adopts the airflow style of the previous Aromamizer Ragnar RDTA, where it uses 20% of airflow at the bottom and 80% at the side. This equals out to some serious flavor production. You can adjust the airflow by twisting the ring on the base of the tank. You can even flip it over to give you even more options!
Another amazing feature is that you can remove a few pieces and turn it into a full-blown RDA. Lastly, you can swap the 5mm chimney out with the included 7mm chimney for more vapor production, if that's what you're looking for.
With all of its new features and overall design, the Steam Crave Aromamizer Supreme V3 RDTA is an awesome performing atomizer. It has everything you'd want, easy to build, versatile airflow and massive capacity. You can't go wrong with it.
Steam Crave Aromamizer Supreme V3 25mm RDTA Features:
Stainless Steel Construction
Overall Diameter: 25mm
Maximum E-Juice Capacity: 5ml or 7ml (Bubble Tank)
Top Fill Design
5mm Chimney or 7mm Chimney
Available In 2 Different Versions: Basic Kit or Advanced Kit
Single Coil Two Post Build Deck
Mesh Deck and Postless Deck (Advanced Kit Only)
Adjustable Bottom Airflow
Available In Four Colors: Black, Blue, Gunmetal and Stainless Steel
What's Included:
Steam Crave Aromamizer Supreme V3 RDTA
7ml Glass Tank
Spare Drip Tip
7mm Chimney 
Spare Parts
Allen Key 
User Manual
Stickers
Mesh Deck Kit (Advanced Kit Only)
Postless Build Deck Kit (Advanced Kit Only)
More Great Vape Deals…
Geekvape Z RDA $14.99
If you're looking for the best deals for the Geekvape Z RDA, then you've come to the right place! Buy[…]