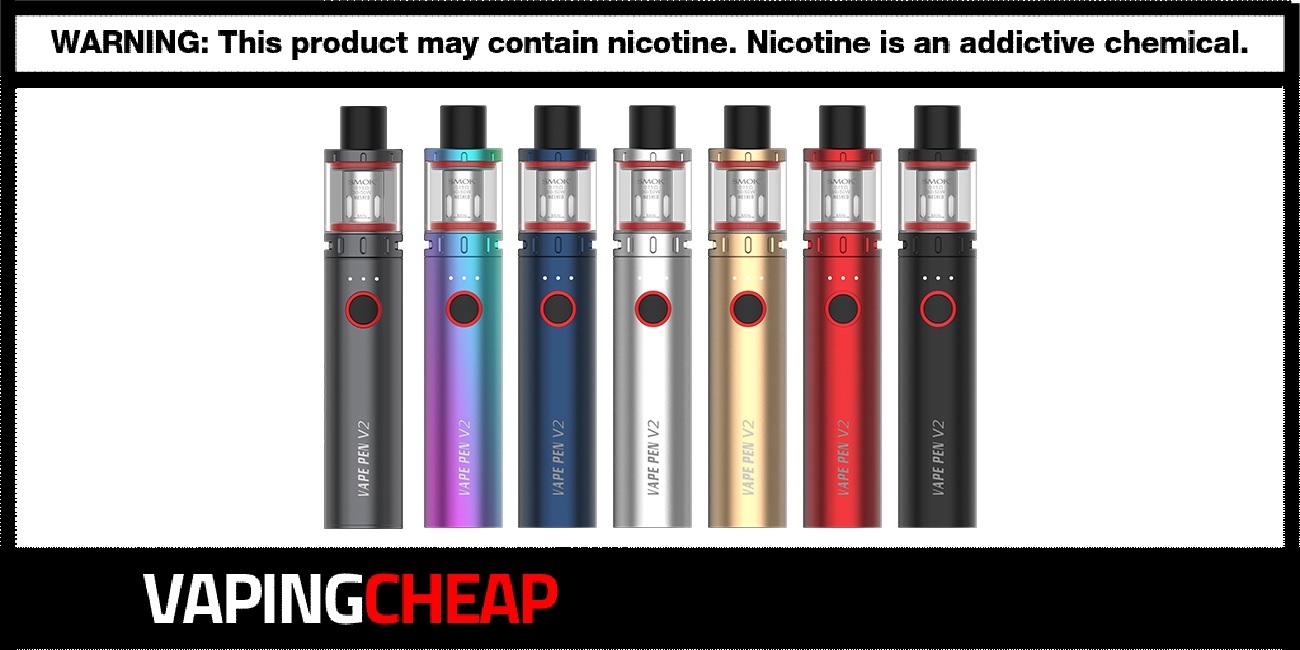 Here you'll find discounts on the new and improved Smok Vape Pen V2 Kit. Get yours from a China based store for only $12.49 using code "SVPV2". It's in stock at a US shipper for just $16.16 plus free shipping over $99 with coupon "VC15". You can choose from seven different color options including Rainbow, Gold, Red, Gunmetal and more.
The Smok Vape Pen V2 is a highly portable and lightweight all in one starter kit. It utilizes a large built-in 1600mAh battery that can be quickly charged using the included USB cable. Additionally, you'll get plenty of clouds with this one as it does provide 60w. Pretty impressive with its size!
Similarly to the Smok Stick 80w, it has a single button design. You can turn the mod on and off by pressing it five times. Additionally, you can check the battery level when pressing it twice.
There's three LED indicator lights located above the fire button, so it's easy to see when checking your battery life remaining. The Smok Vape Pen V2 Starter Kit does have multiple safety protections as well, always a great thing with these style vape devices.
The built-in Vape Pen V2 Tank has a maximum e-juice capacity of 3ml. Filling it is quite a breeze, all you have to do is remove the top cap to reveal the large fill ports. You get two of the Smok Vape Pen Meshed 0.15 ohm coils. As we've seen before, not only will you get stellar flavor, but they'll last longer too! Lastly, the tank section does have a fully adjustable bottom airflow control system.
The Smok Vape Pen V2 Kit has improved on basically everything. From the power, porability, ease of use and flavor. Now, the best part – you'll get it all for under $15 on sale!
Smok Vape Pen V2 60w Starter Kit Features:
All in one design
Internal 1600mAh Battery
Maximum Wattage Output: 60w
Maximum E-Juice Capacity: 3ml
Top Fill Design
Compatible With The Vape Pen Mesh Coils
Adjustable Bottom Airflow
LED Indicator Lights
Single Button Design
What's Included:
Smok Vape Pen V2 Kit
Two Smok Vape Pen Mesh 0.15 ohm Coils
USB Cable
User Manual
Be sure to check out the preview video of the Smok Vape Pen V2 Kit