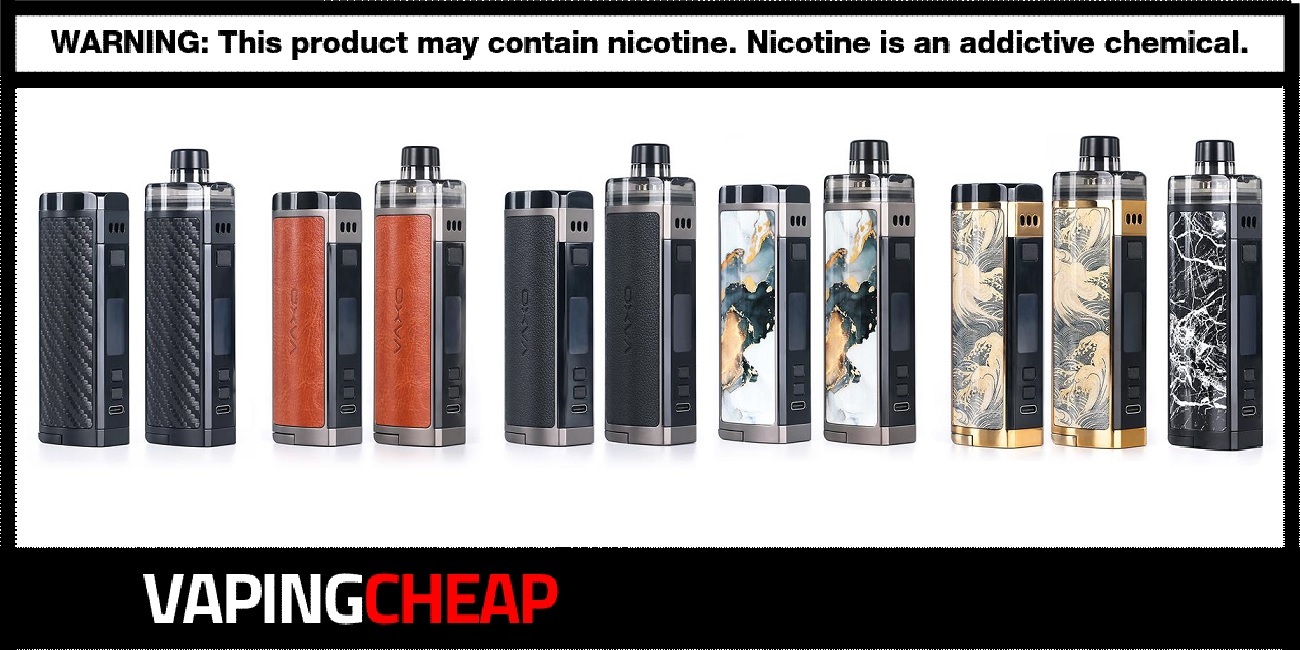 If you're looking for some great deals on the OXVA Velocity 100w Kit, then check these out. You can pick one up for only $32.99 after using the coupon "OXVA". It's also back on sale from a USA store for only $42.99 plus free shipping over $75. No code needed. There are six color options you can choose from. 
OXVA is back with a unique device called the Velocity 21700 100w. It's a compact device that's powered by a 21700 battery. It's also compatible with a single high drain 20700 or 18650 battery with the adapter. With that said, the Velocity box mod has a maximum wattage output of 100w. Just like the OXVA X Pod Kit, this mod is powered by the Photon Chipset, so you're getting excellent performance. This box mod has three user modes as well plus has a ton of safety features built-in.
Going back to the modes, it has smart mode, Power/DIY mode and voltage mode. On top of that, it has a buck-boost converter, so you can always get that satisfying vape even when the battery is low. The Velocity 21700 Mod has a large OLED display screen that can be customized with 6 different themes, yet another awesome feature.
This starter kit comes with the Unipro Cartridge. This pod cartridge has a maximum e-juice capacity of 5ml and has a top fill design. You also get two of the brand new OXVA Unipro Coil Heads in the box as well.
The first is a 0.15 ohm coil and the second is a 0.3 ohm coil. Both are solid for direct to lung vaping. Furthermore, if you do have their original Uni Coils you can use them with the other included pod cartridge. Lastly, they do include the 510 connection, so you can use any other atomizer with it. 
Definitely one of the more unique pod mods to hit the market recently, the OXVA Velocity 100w Kit will definitely satisfy most, if not all vapers. Packed with tons of features and compatible with excellent performing coils, it's hard to beat!
OXVA Velocity 21700 Pod Mod Kit Features:
Requires a single high drain 21700, 20700 or 18650 battery (Not Included)
Maximum wattage output: 100w
Powered by the Photon Chipset
Three user modes: Smart, Power/DIY and Voltage
Large display screen
Multiple safety features
Airflow slots on the front and back
Buck-boost power converter
Compatible with the Unipro Pod Cartridge

Maximum e-juice capacity 5ml
Top fill design
Comes with two coil heads
Adjustable airflow

Compatible with the 510 Connection Adapter
Compatible with the Uni Coil Pod Cartridge

Can only use the Uni Coil Heads
What's Included:
OXVA Velocity Box Mod
Unipro Pod Cartridge
510 Connection Adapter
0.15 ohm UniPro Coil Head
USB Type-C Cable
0.3 ohm UniPro Coil head
User Manual
2 in 1 Tool
Uni Coil Pod Cartridge
Warranty Card
Be sure to check out the OXVA Velocity 100w Kit review video
More Great Vape Deals…
Geekvape Z RDA $11.60
If you're looking for the best deals for the Geekvape Z RDA, then you've come to the right place! Buy[…]