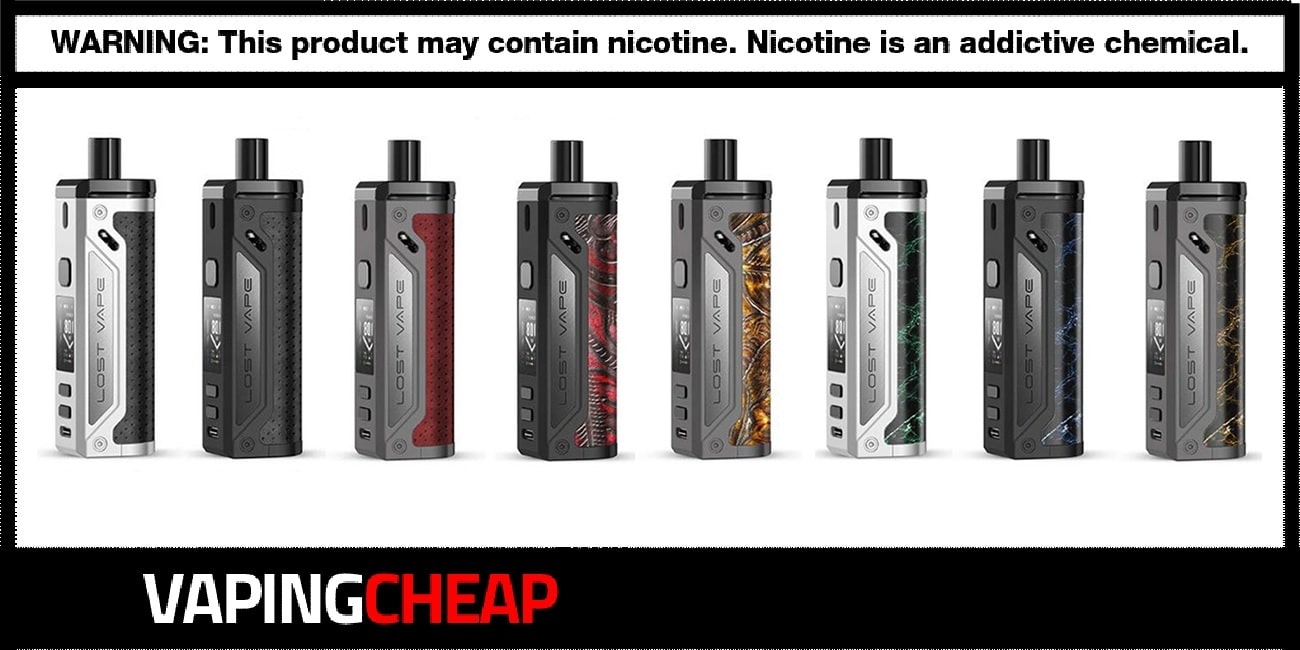 The Lost Vape Thelema Pod Mod Kit is now on sale. Buy yours cheap at just $14.00 using discount code "EXTRA30"! It's now on sale at a China based shop for $19.22 after logging in and applying the code "Aug15". You can choose from three different leather types, which are Glossy Leather, Grainy Leather and Ukiran Leather. On top of that, there are three color options for each leather type.
Lost Vape's Thelema Kit features a similar overall design and look to the Smok RPM Lite Pod Kit. That's not a bad thing whatsoever! It's slim and pocket-friendly, making it perfect for traveling
One key difference is definitely the construction. The Thelema pod mod is made of zinc alloy and leather material, giving it a more premium feel. Powering it is a 3,000mAh internal battery and good for up to 80w.
Another great feature is the Lost Vape Quest Chipset. It utilizes a familiar three button layout, easy for both beginners and advanced vapers. There's a large TFT color display screen too which can be customized with 6 different color themes. On the side is where the dual airflow chamber is located, giving you a super smooth draw.
Included in this full kit is the Thelema refillable pod cartridge. It has maximum e-juice capacity of 4ml and can be filled from the top. Big capacity and ease of fill means less time filling and more time vaping it.
Furthermore, you do get two coil heads. First is the 0.2 ohm mesh coil while the other is a 0.3 ohm clapton mesh coil. Since they are mesh coils, you know they'll last long and provide solid flavor. What's even better is compatibility. You'll be able to use the entire ultra boost coil line including the RBA section! Lastly, you can adjust the airflow using the AFC underneath the coil head.
This is definitely a change of pace when it comes to pod vapes for Lost Vape. The Thelema offers a lot of power, customization and compatibility, making it an excellent choice, especially if you're already invested and enjoy the ultra boost coils.
Lost Vape Thelema 80w Pod System Features:
Internal 3000mAh battery
Maximum wattage output: 80w
Powered by the Quest Chipset
Large TFT color display screen
Zinc alloy and Leather construction
Dual airflow chamber
Compatible with the new Thelema Pod 

Maximum e-juice capacity: 4ml
Easy top fill design
Compatible with the entire Ultra Boost Coil Family
Adjustable airflow 
What's Included:
Lost Vape Thelema Pod Kit
4ml Refillable Pod
0.2 ohm m4 mesh coil head
USB Type-C cable
0.3 ohm clapton m1 mesh coil head
Warranty Card
User Manual
Check Out The Lost Vape Thelema Pod Review by Mike Vapes