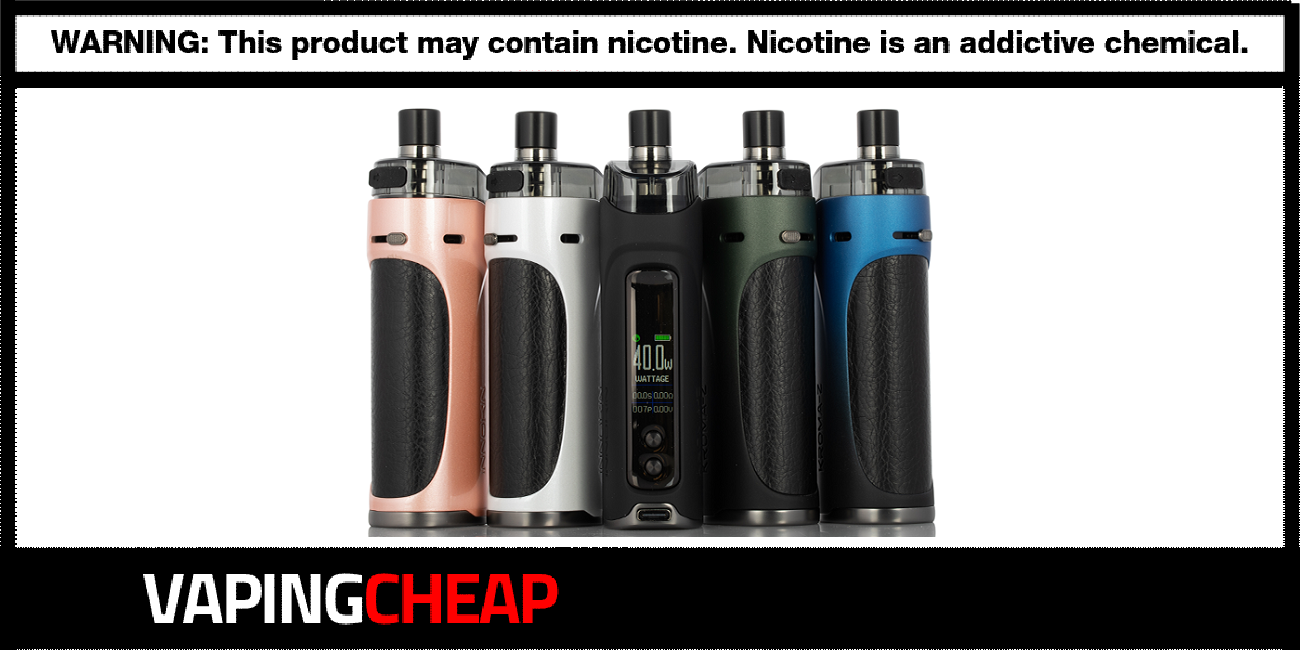 The Innokin Kroma-Z Pod Mod Kit is now in stock and on sale. Buy one cheap for a limited time only at just $25.99 after using the coupon code "KRZ". You can choose from a wide variety of color options including Midnight Blue, Pink, White, Grey and more.
The Kroma-Z Pod Mod Kit is a collaboration between Innokin and Phil Busardo. With its 3,000mAh built-in battery, you can easily get through an entire day on just one charge. When it comes to power output, the Kroma-Z vape pod can deliver up to 40w, and it's fully adjustable. Its slim and sleek ergonomic design does make it a perfect device for on the go.
Innokin's Kroma-Z 40w pod mod is quite simple to use as it features standard power mode. A simple few clicks will turn it on or off, and adjusting the wattage is a simple click of a button. Now, one standout feature, especially comparing it some other pod systems is the airflow. You can slide the lever at the top of the mod to make it a tight mouth to lung vape or a fully open restricted direct lung vape.
Included with this Innokin Kroma-Z, you do get one refillable pod cartridge. This pod holds a maximum e-juice capacity of 4.5ml and easily fills from the side. Additionally, you'll get a mouth to lung coil and a restricted direct lung coil with this kit. For vapers wanting to use other atomizers, an optional 510 connection adapter is available. Lastly, the Kroma-Z Pod is compatible with all the Innokin Z coil heads. With that said, you've got a ton of different options.
Innokin is a brand known for stellar performing kits that is perfect for the beginner, but still delivers excellent performance to satisfy the advanced vaper. For the price, you can't go wrong with the Kroma-Z Pod Mod Kit by Innokin.
Innokin Kroma-Z 40w Pod Kit Features:
Internal 3000mAh battery
Collaboration between Innokin and Phil Busardo
Maximum wattage output: 40w
Variable wattage
Three button design
TFT Display screen
Magnesium alloy construction
Adjustable airflow system
Comes with a refillable pod cartridge

4.5ml maximum e-juice capacity
Side fill design
Compatible with all the Innokin Z coil heads
Can use a 510 connection adapter (Sold Seperately)
Magnetic connection
What's Included:
Innokin Kroma-Z AIO Kit
0.8 ohm coil head
USB Type-C Cable
0.3 ohm coil head
Two drip tips
Quick Start Guide
Be sure to check out the Innokin Kroma-Z Pod Mod review video