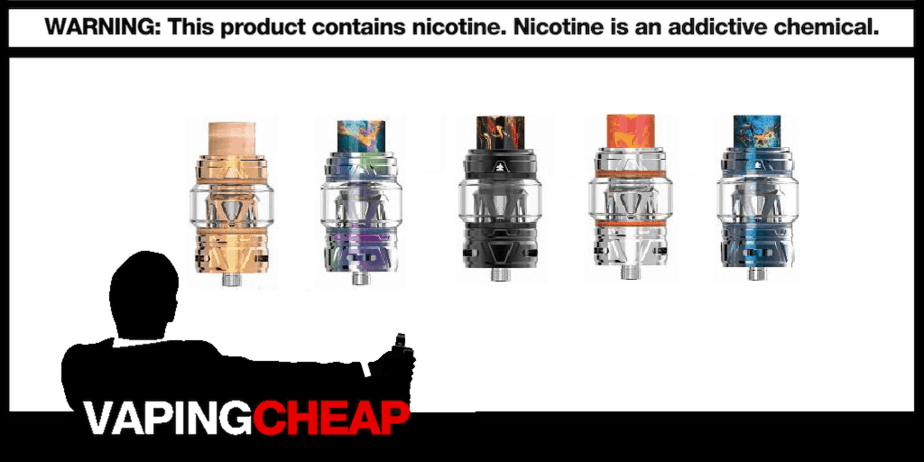 For a limited time only, the popular Horizon Falcon 2 Sub Ohm Tank is now on sale. Get yours for just $16.44 with discount code "vapingcheap". It's now back in stock at a USA based shipper for $19.49 using coupon "NEW25". There are a bunch of different color options you can choose from including Stainless Steel, Carbon Black, Rose Gold, Rainbow and Blue.
The Horizon Falcon 2 Tank is the latest release in the Falcon series of tanks, and to be expected, especially with the success of their Falcon King Sub Ohm Tank. This new version offers a few improvements over the originals, and boosts unique coil heads to deliver even better flavor. Firstly, let's cover the basics. It has a base diameter of 25mm, but extends out to 28mm with the bubble glass tank section. Also, it has a 5.2ml e-liquid capacity, and can be filled using its sliding fill system.
Now, what makes this sub ohm tank much different from the previous versions is the replacement coil heads. The Falcon II Sub Ohm Tank by Horizon utilizes the new Falcon 2 Sector Mesh Coils. These are fan shaped coils with a tapered structure allowing for a bottom up vapor compression path. What this means is that you'll experience a super smooth draw and denser flavor. The coil resistance comes in at 0.14 ohm, and is best vaped between 70w and 75w. What's even better is how to replace these coils. Like some other tanks, it has a simple plug and play design, so it's not only ease to do, but mess free.
The airflow on the Horizon Falcon 2 Sub Ohm Tank is fully adjustable as well. Airflow does travel in through the bottom airflow ports, and up through the coil. As expected, it does have a resin wide bore drip tip as well, perfect for vaping at a higher wattage, which these included coils can certainly handle with ease.
If you're a fan of their original tanks, or simply looking for a new high performing vape tank, then you'll want to check out the Horizon Falcon II Tank. Going by how good the previous versions were, this new version surely won't disappoint.
Horizon Falcon 2 Tank Features:
Base Diameter: 25mm
Overall Diameter: 28mm
Stainless Steel & Glass Construction
Maximum E-Juice Capacity: 5.2ml
Locking & Sliding Top Fill System
Flexible Airflow Control
Horizon Falcon 2 Sector Coils

0.14 ohm Resistance
Fan Shaped
Wood Pulp + Cotton
Best Vaped Between 70w – 75w
Easy Install Process

Wide Bore Resin Drip Tip
5 Color Options
What's Included
Falcon 2 Sub Ohm Tank by Horizon

Sector Replacement Coil Head

3.4ml Glass Tank Section

Spare O-Rings
Check Out The Horizon Falcon 2 Tank Review