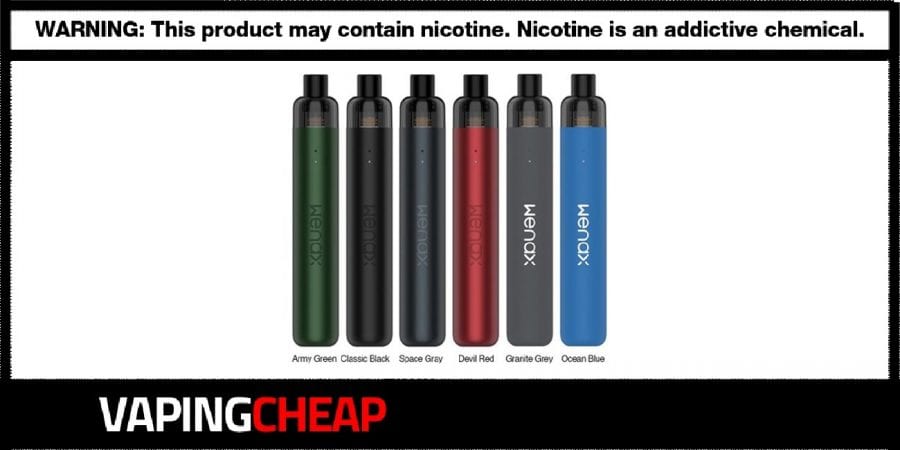 For a limited time only, the Geekvape Wenax Stylus Kit is on sale at a China based store for only $10.99. It's also available from a USA based shipper for only $16.14 with coupon "VAPOR15". There's various color options available including Devil Red, Army Green, Space Gray and others. 
Geekvape's Wenax Stylus is powered by a larger internal 1100mAh battery. This device can be charged using a micro USB cable. In addition, it has a maximum wattage output of 16w or 11w depending on which coil you use. With its aluminum construction, its both lightweight and quite durable.
On top of that, the shape of the Wenax Stylus Pod Kit makes it pocket friendly as well as extremly comfortablt to hold. You can power it from two different ways, one is by using the fire button and the other is just by taking a draw (draw activated firing). The large fire button is located at the bottom of the device. Like some pod kits, it has three different modes as well which include high, medium and low.
The Geekvape Wenax 16w Pod system Kit comes with a Wenax refillable pod. It holds a maximum e-juice capacity of 2ml and fills from the bottom. Furthermore, it comes with two different coil heads, one is a 0.6 ohm coil and the other is a 1.2ml coil head. Lastly, there's an extra drip tip included in the package, which is definitely a bonus!
All in all, if you are looking for a highly compact and portable pod system that's easy to use, then you'll definitely want to check out the Geekvape Wenax. Based on the feedback we've seen and this super low sale price, it looks like a winner!
Geekvape Wenax Stylus Pod Kit Features:
Built in 1100mAh battery
Charge using a micro USB cable
Maximum wattage output: 11w or 16w (Depending on coil)
Compact design
Aluminum construction
Draw activation or fire button
Three different modes: High, Medium and Low
Compatible with the Wenax Pod

Maximum e-juice capacity: 2ml
Bottom fill design
Comes with two different coil heads
What's Included:
Geekvape Wenax Stylus Kit
Refillable pod
0.6 ohm G Formula Coil head
Micro USB Cable
1.2 ohm G Formula Coil head
Extra Drip tip
Coil Tool
User Manual
Check out the review for the Geekvape Wenax Stylus Kit…