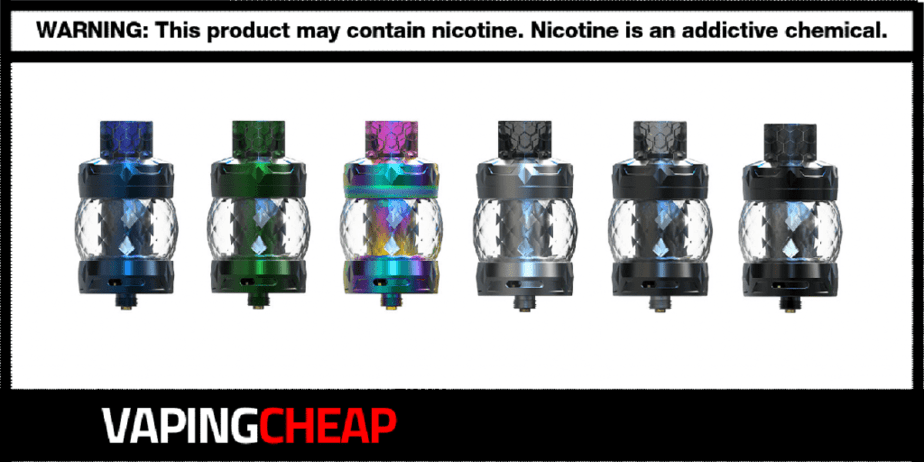 Here's an excellent deal and discount for the Aspire Odan Sub Ohm Tank is now in stock and on sale. Buy one for just $9.90! No code is required for this price. It's also available at a USA based store for only $38.75 with the coupon code "GET10". There's three color options available for purchase.
The Odan Sub Ohm Tank by Aspire features a unique design, especially its glass tank section. It's a diamond cut crystal tube that's more sturdy, and heat resistant than regular glass tank sections. This is an optional accessory, but definitely one of a kind. However, that's not the unique feature of the Aspire Odan Tank. At the top, it comes pre-installed with a 810 resin honeycomb drip tip, which is also heat resistant. Additionally, self-cleaning coil housing, which prevents condensation, and leaking from occurring.
Another great feature is that it can hold a massive 7ml of vape juice. In comparison to other sub ohm tanks, this is more than the average, that's for sure. It also features a sliding top fill system, so it's mess free and easy to fill. When it comes to coils, this atomizer is compatible with Aspire's Odan replacement coils. 
Included in the packaging, you'll receive both a 0.2 ohm mesh coil, and 0.3 ohm mesh coil. What's great about these coils is that they feature unique wicking. They have 80% linen cotton and 20% organic cotton. This provides not only stellar flavor production, but the linen cotton is also heat resistant. Installing them into the Aspire Odan Sub Ohm Tank is easy since it's a plug and play coil system. Lastly, the Odan Tank features fully adjustable bottom airflow, and sports an overall diameter of 28mm.
If you enjoy larger atomizers, and looking for a new tank that has a massive e-juice capacity, then we highly suggest checking out the Aspire Odan Tank. Not only does it hold 7ml, but with its unique coil system, and self-cleaning coil housing, it provides an awesome yet convenient vape experience.
Aspire Odan Vape Tank Features:
Overall Diameter: 28mm
Maximum E-Juice Capacity: 7ml
Sliding Top Fill Design
Unique Crystal Glass Tank Section (Optional)
Fully Adjustable Bottom Airflow
Self-Cleaning Coil Housing
Resin Honeycomb 810 Drip Tip
Compatible with Aspire Odan Coils

0.2 ohm Mesh (50w – 60w)
0.3 ohm Mesh (35w – 45w)
0.18 ohm Mesh (60w – 80w)
80% Linen & 20% Organic Cotton Wick

Many Unique Color Options
What's Included
Aspire Odan Tank
7ml Glass Tank Section
0.2 ohm Mesh Coil
Spare 0.3 ohm Mesh Coil
8 Spare O-Rings
Warranty Card
User Manual
Check Out The Aspire Odan Sub Ohm Tank Review