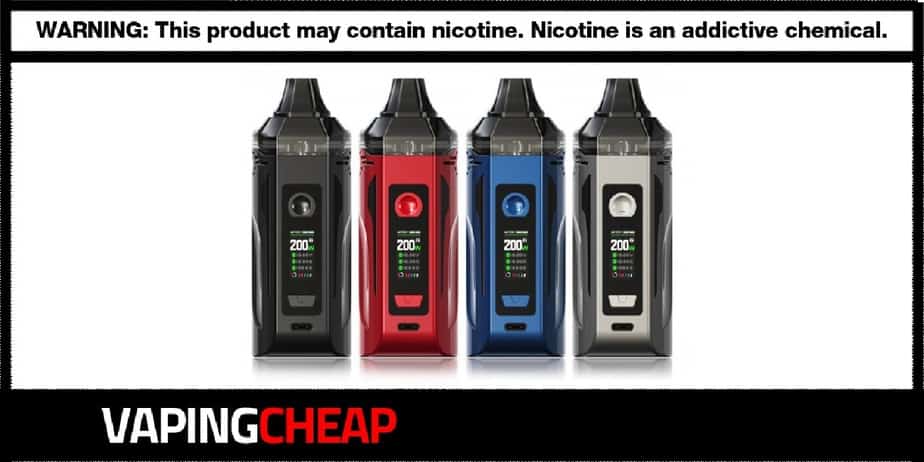 Here are some discounts on the Artery Nugget GT Pod Mod Kit. Buy this unique 200w device from a USA based shipper for as cheap as $31.99! No discount code required. It's also on sale from a China based store for $35.99 with the code "NugGTD". You can choose between four color options which are Red, Black, Gunmetal and Blue. 
The new Artery Nugget GT Pod Mod kit is unlike any other pod vape on the market. For one, it requires two high drain 18650 batteries. Since this is the case, it's by far the most power pod mod, delivering a whopping 200w! Additionally, it can fire down as low as 0.1 ohm coil resistance. Artery's Nugget GT vape pod is powered by the Aero chipset and comes loaded with multiple safety protections. 
Moving forward, the Nugget GT Dual 18650 pod mod is primarily made from zinc alloy material. There's a large OLED display screen on the front of the device which will showcase all of your vaping information. This includes coil resistance, battery life, wattage setting and more. You'll notice as well it features a familiar three button layout, just like a traditional vape mod.
As expected, the Artery Nugget GT 200w pod vape does include both a pod cartridge and coil heads. The Artery Nugget GT refillable pod has a large 8ml e-juice capacity, so you won;t be needing to fill often, However, when you do need to, you can easily fill it with its bottom filling ports. 
When it comes to the replacement coils, you'll get the 0.15 ohm XP coil and the 0.4 ohm XP coil head. Lastly, there is a fully adjustable bottom airflow system.
If you're looking for a vape pod for clouds, then look no further than the Artery Nugget GT. There's none like it on the market, and cloud chasers will absolutely need this one in their arsenal.
Artery Nugget GT 200w Pod System Features: 
Requires two high drain 18650 batteries (Not Included)
Maximum wattage output: 200w
Powered by the Aero Chipset
Zinc alloy construction
Large OLED display screen
Bottom airflow
Three button design
Refillable pod cartridge

Maximum e-juice capacity: 8ml
Bottom fill design
Uses the XP Coil Family
What's Included:
Artery Nugget GT Pod Mod
Refillable Pod Cartridge
0.15 ohm XT Coil Head
Extra Silicone Plug
0.4 ohm XT Coil Head
Battery Safety Card
510 Drip Tip
USB Type-C Cable
Warranty Card
User Manual